No article I've written in the past year was as fun as this one.  Stu Oltman provided the inspiration and I soon realized in talking with several other mechanic types that most did not know of JIS Screwdrivers.  I've counted at least a dozen people that have ordered these screw drivers after I told them about them. Hope you enjoy it.
Here's my review (PDF) from Motorcycle News, March 2013.
Visiting Stu Oltman's garage near Phoenix, Arizona is always worthwhile, even if my bike isn't ailing. Oltman knows more about fixing motorcycles than most in these parts. He spends a lot of his time with Japanese bikes, although he owns a variety of makes and models. His Aprilia and Triumphs don't seem to give him any particular concern. For many years Oltman was the Technical Editor of Wing World Magazine, the official publication of the GWRRA (Gold Wing Road Riders Association). I stopped reading when Oltman retired. Oltman can be technical and crusty, opinionated, funny, intolerant of fools—and pretty much always right.
Rather than taking my bike to a dealer for repairs I can't handle myself, I prefer Oltman—he lets me help—stifling his snickers at my ignorance and ineptitude. This typically doubles or triples the time a repair would take at a real motorcycle repair shop. Add in frequent coffee breaks and time for telling motorcycle lies, a simple 2 hour job easily and happily extends to a good part of the day. My last visit required some extensive disassembly. Unable to dislodge one rusted and corroded screw, I'd managed to strip a good part of its Phillips head. Oltman went to his tool box and came back with a different screwdriver saying, "try this." This screwdriver fit snugly and the screw came right out. "That's a JIS screwdriver," Oltman told me, "Japanese Industry Standard. They look like a Philips but they're not, and they work a lot better on bikes from Japan."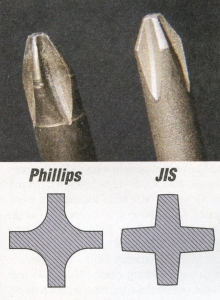 Sometimes referred to as "Japanese Phillips," screws in products from cameras to carburetors made in Japan conform to Japanese Industrial Standard 4633B-3/1991 (DIN/ISO standard 5260). While a Phillips screwdriver on these screws will sometimes do the job, JIS screws will be far more susceptible to stripping. And they totally miss providing that satisfying tight, snug feel that the correct tool gives.
Portland native Henry Phillips invented the Phillips screws/drivers in the 1930's for application in automobile assembly lines. His Phillips screwdrivers were built with an angle on the flanks and rounded corners. This taper on the driving faces causes the screwdriver bit to "cam out" of the slot before twisting a screw head off, which was a requirement for automated assembly lines. But what made it do well in that environment makes it prone to stripping when used by hand. Unlike a machine, a person has no way to deliver the specific downward force required and the chances of stripping the head go way up. On the other hand, JIS screwdrivers have parallel faces on the driving flanges and will not cam out. They are likely to break whatever was keeping the screw from giving (good), or strip the thread with excessive force (bad).
Identifying JIS screws is simple; they often have a small dot to one side of the cross slot. Using a JIS screwdriver in the right situation on the appropriate screw head feels really good. It's a pleasure to have something work so well. It finally begins to make sense why Phillips head screws seem to get so bungled up and why it feels like they push back when pressure is applied. And if you're a tad pedantic, you now have something new to lecture your fellow weekend mechanics about.
Using a JIS screwdriver on a regular Phillips head screw should be just fine, although you won't get any real advantages. However, don't apply a Phillips screwdriver on JIS screws, because it pretty much won't work.
Although not expensive, JIS Screwdrivers can be a bit difficult to find. None of my typical tool stores (ACE Hardware, Sears, Harbor Freight) carried them and, in fact, had no idea what I was talking about. I found a set of the Japanese manufactured HOZAN brand screwdrivers at Ika's web shop and they were under $20 for four common sizes, the No.00, No.0, No.1 and No.2 with grip diameters of 14, 21, 26 and 28 mm.
Once again, Oltman extended my knowledge of bike mechanics. My Honda is back to working as it should and I better understand why some shop labor rates jump from $65/hr to $100/hr if you watch, $150/hr if you watch and ask questions, and $200/hr if you help.