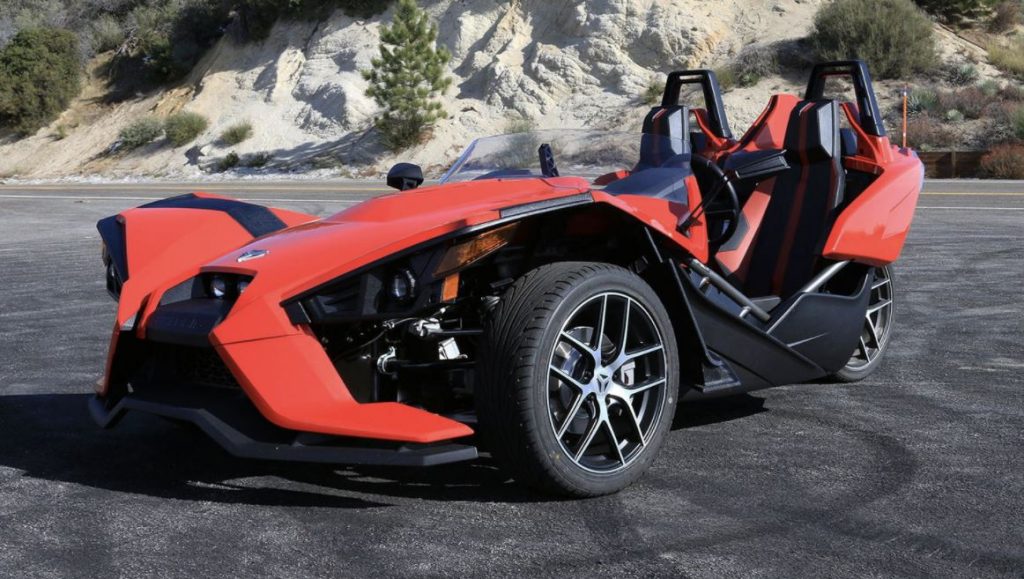 Only a few of my fellow motorcyclists are aware I own a Polaris Slingshot.  Fewer still have any idea how or why, but I'm about to tell you.  Let's get the first thing out of the way – no, it is not a motorcycle.  While it may be a motorcycle from a legal and technical standpoint, it does not handle like a motorcycle, one does not straddle it like a motorcycle, and in nearly every aspect, it drives and handles like a car.
What's below:
Press introduction: In my role as motorcycle journalist, back in 2014, Polaris Industries invited me to attend a press event launching a new product. It was all hush-hush. All information on what was to be announced occurred under "embargo," a PR term (threat) for "you can't write about this until we say you can or you'll never get any news from us ever again." But it involved a trip to Polaris HQ north of Minneapolis and interviews with some of their top people. While there, I was able to get up close and personal with an upcoming new product, something called a "Slingshot."
Polaris makes toys:  Polaris has a history of knowing what toy-lovers want even before they do.  This $5.8 billion dollar power-sports-house gives its designers a lot of rope to create vehicles that tickle the imagination of toy-loving outdoor enthusiasts.  Besides owning a big chunk of the snowmobile and watercraft markets, fifteen years ago Polaris reinvented the off-road all-terrain vehicle segment with their innovative side-by-side RZR and RANGER products.  Their line of Victory motorcycles gave cruiser riders a genuine alternative to Harley Davidson.  The newer Indian motorcycle line gets rave reviews for not only being true to the original Indian brand, but also introducing leading edge technology.
Ordering the first one:  The Polaris Slingshot hits a spot between an Ariel Atom race car and a Ducati GP motorcycle.  I had to have one and it had to be the very first one in Arizona.  After visiting several Polaris dealers who'd not yet heard about this new "thing" headed their way, in July of 2014, I found a dealer to take my deposit in exchange for a promise I'd get the very first one. Woo-hoo! Not only a radical new vehicle, but to be the first! How cool is that? The wait began and I studied the specification sheets.  The Slingshot's 3-point geometry consists of a 173-HP front-mounted engine, a single rear wheel connected to the transmission with a belt, and an ultra-wide-stance for the front wheels. The super low chassis suspends riders just inches above the pavement.  The Slingshot exhibits super-car angularity and looks like it came off the set of a Batman movie – at least from the front. Someone commented that from the back, it looks a bit like a chairlift with a tire attached.  With a 105-inch wheelbase and 70-inch track width, this baby is wide.  Weighing a whiff under 1,700 lbs., that's just 10 lbs. for each horsepower to pull. The Slingshot rockets away from a standstill.  As the owner of a Lotus Elan for nearly fifty years, a car from world-renowned car constructor Colin Chapman known for his moto: "Simplify, then add lightness," I understand and appreciate the value of good weight to horsepower ratios.  As Chapman explained, "Adding power makes you faster going straight, but subtracting weight makes you faster everywhere."
Three-wheels vs. four: Nearly everyone driving or riding in the Slingshot asks about the stability of 3-wheel versus 4-wheel transport. My response is to consider the humble restaurant tabletop. How many times have you struggled to get a 4-legged table stable with folded napkins and matchbooks wedged under various table legs? But never with a 3-legged table, as they are always perfectly stable and never, ever wobble.
When interviewing Mike Jonikas, the Polaris VP overseeing the Slingshot at the time, I asked him who they were thinking of when they built this thing.  He told me it was "designed from the ground up for people with a passionate thirst for an adrenaline-filled driving experience.  It's the perfect vehicle for those days when you crave a drive in the open air with the asphalt screaming beneath you and the head-turning exhilaration that comes from driving something incredibly unique."
Motorcycle or car? The National Highway Traffic Safety Administration (NHTSA) and the local Department of Motor Vehicles (DMV) both classify the Slingshot as a 3-wheel motorcycle.  This means all federal and state regulations pertaining to the licensing and safety of motorcycles apply, including local helmet laws. More importantly to Polaris, is that it is not an automobile and thus does not have to comply with a mass of driver protection laws such as airbags, special bumpers, crash testing and many more.  However, as all motorcyclists know, what defines a motorcycle and who may drive one and what protective equipment must be worn, varies from state to state. As a result, the Slingshot's rollout was slowed and complicated as Polaris addressed individual issues in various states.  For instance, in Texas, part of the definition of a motorcycle is saddle-type seat. So, if it has no saddle, how can it be a motorcycle?  Eventually, Polaris worked it out with all the states and the Slingshot is now legal everywhere, but in some states a helmet is still required.
The Slingshot's space-age steel frame has a sport-tuned double-wishbone front suspension with a sway bar and coil over gas-filled shocks.  Electric, power-assisted steering is designed to provide fatigue-free driving.  ABS coupled to 298mm diameter rotors at all three wheels can slow this beast down in seconds and do it safely. Peak horsepower comes at 6,200 RPM and the rev limiter caps RPM at 7,000 RPM.
 Frame and Clutch: A lightweight aluminum swing arm and massive rear shock hold the rear wheel and drive train in position.  Electronic stability control helps avoid unwanted wheel spin or skidding which could be a concern in a three-wheel vehicle.  Wheel size varies slightly for different models, but are forged aluminum in front and back with custom designed, low-profile, high-performance tires.  I ordered the higher-end SL model which came with larger wheels.
The clutch is a single plate dry clutch, hydraulically activated and mated to a 5-speed gearbox.  For years I had assumed the manual, five-speed, synchromesh transmission was built by the same people supplying the Mazda Miata, as it felt so similar.  I was wrong, according to Road & Track Magazine, it's from GM, too. Power is delivered through the transmission and then to the rear wheel via a carbon fiber reinforced belt.
No roof, doors or windshield:  To drive, you swing your leg over the frame and ease your backside down onto a race-like seat surrounded by rust-proof polymer body panels.  Proximity to the pavement amplifies the sensation of speed.  When you're surfing down the asphalt with your tush only 11 inches off the ground, you get a whole new perspective on velocity and the true meaning of ground clearance. In a modern sports car one can quite easily accelerate up a highway onramp and inadvertently find one's self at triple digit speeds.  Not so with the Slingshot. Here, 50 mph feels like 90 so even at modest speeds you'll find yourself grinning ear to ear while passengers raise their arms in the air as if on a thrill ride.
Engine: Power comes from a GM manufactured 2.4 liter (2384cc) dual overhead cam engine with a bore and stroke of 88mm X 98mm and variable-value timing for better fuel efficiency.  The compression ratio is 10.4:1 on the 173 HP power-plant, which means you'll be parking at the premium pump when you fill up.  With the light weight, the motor seems massively large when opening the hood and since it has so little weight to move around, gas mileage is actually superb. Plus, according to several magazines that tested it, its capable of 130 mph.  This would not be something I can personally testify to as after 95 mph. it feels to me like it wants to take to the air.
The Slingshot arrives: While not the first, I was perhaps the second or third person to get a new Slingshot in Arizona.  It was "Red Pearl" with the optional 18-inch wheels in front and larger rear wheel, as well.  The SL model also included a sort of half-height windscreen, integrated backup camera, and a six-speaker Bluetooth-enabled audio system.  It finally arrived in early December of 2014 as a new 2015 model year vehicle. Driving it home from RideNow Powersports in Peoria was a blast. At every stoplight, windows in surrounding cars came down with people shouting questions, asking what it was and often taking pictures.  The following year I covered it in Xmas lights.
Over the next few months, I learned the Slingshot was every bit as fun as I'd expected.  There are innate human reasons that convertibles, motorcycles and ATVs are so popular.  On a beautiful day there's nothing better than the sun in your face and the wind in your hair as you experience firsthand an unforgettable urban or rural landscape.  The Slingshot is born of a recipe that is equal parts of each of these genres, with a pinch of Batmobile and F1 race car thrown in to turn heads, and I suspect I'm not the only one who loves the taste of it.
Not always best to be first: When my daughter visited for the Xmas holidays, she and a friend chose the Slingshot to drive to the Scottsdale Fashion Square.  As they were parking in the lower level of the shopping center garage, the steering wheel began failing to move the car in the direction it was being turned.  It would go to the right, but would not turn to the left. They pushed it into a parking spot and called me. Once on the scene, I found the problem, which was with the power steering unit. I used my phone to capture this malfunction. Luckily, I had all of the contact information from my press visit to Minneapolis and was able to email the video of the failure to the product manager for the Slingshot.  The video must have made the rounds of Polaris over the weekend. I was told not to try and move it and two engineers from Polaris were on the way.  Two days later, with Polaris engineers doing most of the work, we pushed it up out of the subterranean parking area and onto a waiting flatbed truck.  I was surprised at such a catastrophic failure with only 350 lightly-driven break-in miles on the odometer. We all shuddered to think what might have
happened if they'd been going 50 mph on a busy street instead of 3 mph in a garage.  Apparently, Polaris had the same worry, as within a day of them picking up my Slingshot, I learned that Polaris had issued a national "immediate stop sale and stop ride Safety Recall" (SLI-1500-2) for defective steering rack assemblies. Given my Slingshot was one of the first sold and that I discovered the problem so quickly, Polaris was able to reach the relatively few owners who'd taken possession of their vehicles.  Everyone was instructed to stop driving their machines and Polaris would be coming to get them, bringing them back to the shop for repair.  Of course, they also fixed all unsold inventory and were able to get to most units before they left the factory.
Steering rack explained: What had happened was this.  Some of the bearings in the outsourced power-steering box had not been cured properly and to spec.  Just like any other baking project, ingredients, time, and temperature are critical. When you make bearings, you combine and heat various metals. It is no surprise that the proportion of each metallurgical ingredient is critical, as is the temperature to which it is heated, how long it remains at that temperature and how fast it cools. Just one error can cause the bearings to deteriorate under pressure, which is what happened with the ones in my Slingshot power steering unit.  The fix was to replace the steering rack.  Earlier, Polaris had noticed an issue with the roll hoops which provide rollover protection to riders and those were replaced on affected vehicles as well. Little was I to know, this would not be the first safety recall on my Slingshot.
Other recalls: The next issue presenting itself was one with the seat belts. In the event of a side impact collision, the seat belt retractor on the opposite side of the collision could fail.  It was fixed.  A year or so later they found that certain swing arms had been assembled without grommets, which could lead to contamination of the rear-speed sensor affecting the ABS and Traction control, which could increase the risk of a crash.  Mine was examined but I believe my grommets had been assembled properly.  In October of 2017 it was recalled again to install new brake pressure switch seals for free.  At the same time, they replaced the fuel line as the original design did not allow for enough clearance between the line and a spot where it could rub against the hood.  While this may bother some people, it actually has increased my faith in Polaris Industries and my Slingshot. I love to drive it and am fully confident in turning the keys over to a friend or loved one to take it for a drive. It has not been the same for all three-wheeled vehicles, including one often compared with mine.
Morgan 3-wheeler saga:   In late 2012, my good friends Steve & Karen Pittendrigh fell in love with the 3-wheel Morgan.  Morgan was founded in 1910 and began producing their first 3-wheel cars soon after.  After a long delay in building them, Morgan started production again in 2012 in Malvern Link, Worcestershire, UK.  It is a stunningly beautiful machine and with its S&S engine it looks surprisingly like the original from the early 1900s, but has far more get up and go, delivering 115 HP to the 1, 212 lbs. machine.  Each Morgan is made by hand in the original factory from a company of approximately 220 people.  The waiting list can extend to six months or longer.
After making a deposit, they traveled to the UK where they had an opportunity to watch their Morgan being built.  Whether they got to see the exact Morgan they actually received may have suffered from less than perfect scheduling, but they had a ball visiting the plant in which 3-wheeled Morgan vehicles had been rolling off the line since 1912, with a break of sixty years between 1952 and 2012.  Their brand new, old-looking Morgan arrived in February of 2013.  It was a ravishingly beautiful grey color and completely dazzling.  They got a license plate for the front naming it the "Grey Goose."  I couldn't take my eyes off it and loved driving it the few times I could pull it away from Steve's hands.
In May 2014, on a motorcycle ride with the American Flyers Motorcycle Club, Maggie and Karen drove the Morgan, typically with Karen as pilot and Maggie as co-pilot.  The Flyers have a tendency to push speed limit boundaries, and so the ladies were flying across a deserted section of south Utah near Natural Bridges at a fairly high rate of speed when the rear tire froze up.  Literally, it stopped turning. Karen kept her head and a steady hand on the wheel as the Morgan left a 70-foot skid mark of black rubber on the road before coming to a stop. Noticing the lack of a Morgan sweep vehicle, the rest of the club eventually turned around and found the immobile 3-wheeler and the two women muttering expletives.  The Morgan was loaded into the AFMC luggage trailer and from there onto a flatbed truck before finding its way back to Phoenix and the Morgan dealer. Eventually the cause of this spectacular failure was identified by Morgan and a recall issued.  However, it would take several months and during that time, Steve and Karen lost confidence in the Morgan and decided to sell it.  What had happened was this:  in an open air Morgan, gears transfer power from the drive train to the rear wheel in a box of gears called a bevel box. In a four-wheel vehicle, the rear-end drives two rear wheels and also contains a differential which allows the rear wheels to turn a different number of revolutions when going around a corner (the outside wheel turns more often than the inside one).  In four-wheel vehicles you typically can't hear these gears. However, with an open air vehicle you can and the Morgan's bevel box was notorious for its loud howling noise, causing some riders to wear earplugs.  It's audible on my Slingshot, too, but not as loud as on the Morgan.  Given owner complaints, a well-intended Morgan employee found an additive for the rear bevel box to thicken the oil and quiet the gears. Problem solved. Except for one thing.  Under sustained high speeds, the oil would get hot. With the higher temperature, this new additive caused the bevel box oil to congeal, becoming thick enough to stick to the insides of the bevel box housing and eventually depriving the gears of lubrication. On this day, the gears got so hot they fused together and stopped the rear wheel from moving.
Unlike Polaris, the Morgan folks were calmly nonchalant, resulting in Steve and Karen's lack of confidence in driving it and eventually sale. We still love the Slingshot and feel confident in its quality and safety.  Long live the side-by-side, open-air ride!
END